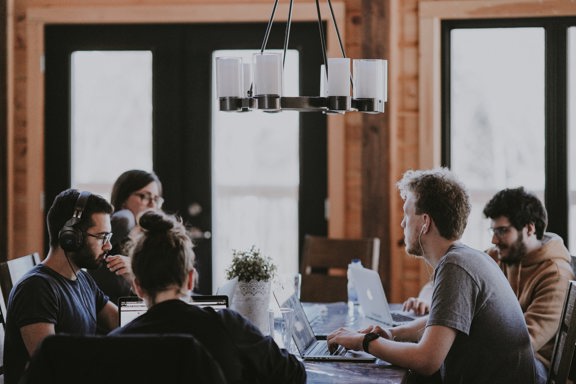 8 ideas for managing organisational change
Who is this article for?
This article has been written to help anyone responsible for, or planning, to drive culture change in their organisation. We believe that Design Thinking offers a unique toolset to achieve this article was created to share our thoughts around how to apply these tools and mindsets.
Hot air or hot waters?
As industries become increasingly digital, there is a growing awareness that constant and rapid change is becoming the new normal. For digital businesses, the starts-ups and scale-ups, who have the ability to drive innovation, rapidly penetrate a market and scale faster, this presents great opportunity.
At the other end of the scale, for the larger, well established organisations, there are often two mindsets, firstly the appreciation of the changing landscape and the recognition that innovation is critical to survival, the questions is how, or alternatively, a deep confidence that disruption will never happen.
The conflicting attitudes can perhaps be understood through Amara's Law. Roy Amara was a researcher, scientist and futurist, the president for The Institute of the Future. His notion suggests that "we tend to overestimate the effect of technology in the short-run and underestimate the effect in the long run".
There is much hype perhaps around Artificial intelligence and robotics. Today, we're a long way from robots ruling the world, but the potential impact on our future is significant. However, the consequences of complacency, can, and will have swift and severe effects.
Business growth and sustainability is intrinsically linked to a culture of innovation, the ability to disrupt from within. The capability to redefine value through new products, services and solutions, is built upon an innovative mindset, creativity, the courage to take risks and an openness to change.

The trick is not to blindly discard what has made you successful today and simply recreate the latest digital tactics, but to challenge the assumptions that have underpinned past success, and stress test the ways you create value for your customer, shareholders and people.
What do you do when there's no best practice?
The way we make sense of the world around us needs to evolve. Previously our environments were simpler. It was easier to assimilate information, categorise and quickly identify where best practice existed, and follow suit.
As complexity increases due to the rapid pace of change, we are required to now sense, probe and analyse changes, and even act, in order to deploy emergent or even novel practice. An untrodden path is daunting.
Ultimately the challenge for all is how do we see the complexity and contradiction, and have the certainty to act? The answer, organisational and individual agility.

An agile approach to organisational change
Our established way of delivering change in a business such as Lean, Six Sigma, Just-in-Time, have been centred around driving efficiency. In simple terms, creating the same output with less resources, (be it time, money or labour etc).
This approach has allowed us to reduce flex, waste and redundancy from our processes. In doing so, the by product is that our processes, our organisations become brittle. The problem we face, is when something comes at us out of left field, we do not have the time, money or labour to be able to deviate and respond.
Our ability operate with agility is limited, yet it is more important than ever before.
As businesspeople:
We need to be able to sense the changes in our internal and external environment, and deeply understand how it impacts our business, shareholder, employees and customers
We need to be able to collaborate effectively, using collective intelligence to truly make evidence based and data driven decisions
We need to deploy dynamic tools and techniques that enable us to anticipate, test, learn and pivot when creating new processes, products and solutions

Take control with Design Thinking.
We want to share some of the considerations that we've seen make for a successful culture change programme: from large financial institutions through to global energy conglomerates.
The value of Design Thinking, is that it focuses on problems that are complex by nature, and on problems that are focused on people. The steps broadly follow the Design Thinking philosophy (Immerse, Frame, Ideate, Prototype, Test) but with some important nuance that's specifically relevant for navigating change in larger organisations.

You need a team to deliver change. You should assemble a group of 7–10 individuals who bring unique perspectives to the table (e.g. HR vs. Finance).
These are people who will ultimately be responsible for driving change through the various departments and business units of the organisation. You're looking for people who can help lead change at different levels in the organisation.
These are the people who will go through the journey with you and will help shape the plan. Roles you'll need:
Sponsor / Decider — this person is funding the project and will be needed to make strategic decisions on direction
Naysayer — this person is often overlooked but has great ideas about the real issues and barriers in your way. You want one of these people in your team to help you focus on the right problems to solve
Functional expertise — people from different parts of the organisation who will be affected the the culture change project and who will ultimately be responsible for helping move the change through the business
Middle-Management — consider including people from the middle of the organisation, where initiatives often falter,
Project Manager — dedicate some resource for help scheduling meetings and sessions and documenting actions
Culture is a slippery fish when it comes to definition. Clearly it exists, clearly it exerts huge force on how people operate, but when we try and change it, we realise it's like chasing a shadow.
'Culture' is the aggregated outcome of how people in an organisation normally behave. It's the zoomed out view of the values and norms that drive individual and group behaviour. But tackling that 'zoomed out' view is impossible without getting into the drivers of culture: the behaviours people live and breath every day.
This is where the rubber meets the road. The tangible, 'hard stuff' that you can observe, understand, influence and change. It's when we focus on this level of culture, the day to day behaviours, that we can make small changes that can have dramatic consequences.
Take one client of ours who wanted to create a culture of innovation in their business. They identified that the most common excuse for not getting involved in innovation projects was not having enough time.
Their response was to wage a 'war on time wasted'. They worked out that if they could take the average meeting duration from 60 minutes to 30 minutes they could free up circa. one day per month of every one of their 2,500 employees.
Learning: think about the day to day behaviours you want to see lived in the organisation in 3 years time. Your task for the culture change project is to understand what's blocking those behaviours now, what would enable them and therefore how can the organisation develop initiatives and interventions that facilitate those new behaviours.
3. It's a marathon, not a sprint.
Culture change takes time. Don't expect everyone to get on board with new ways of working in year one. In truth, your first year will be spend laying the foundations for change: changing systems, removing barriers and over-communicating the vision and roadmap.
You'll focus on your early adopters in year one — these are the people who are naturally interested in adopting new ways of working. 
Don't set yourself up for a fall here — change takes time and you should be setting expectations internally that your first year is about learning and experimentation, year two is rollout and adoption and year three moves towards these new behaviours being self-perpetuating.
Learning: ensure your team understand what success looks like at each phase of change. Don't under-celebrate progress in year one!
4. Help teams trip over the truth.
Teams leading culture change tend to be senior, and rightly so. They also tend to be quite disconnected with the reality of employees and customers.
The higher you get, the more reporting is compressed and abstracted. This is a real problem when you're trying to tackle real issues, with real implications, that really affect how people feel about bringing their 'best self' to work.
There's really only one remedy to this. You have to get teams to 'trip over the truth'. This means getting them out into the business, having real conversations with real people. This is something people dread, but consistently find energising and inspiring.
We ran a focus group with an energy company where a team watching the discussion heard an employee 'letting rip' with her feedback on corporate comms. It was raw, unfiltered and brutally honest.
And it was only in hearing this directly — not via a summary report or as an appendix to a bar chart — that the people hearing it were truly motivated to change and address the issue. That's what we call tripping over the truth.
Learning: get your Tiger team out there having real conversations and bringing their insights back to the group. The act of assembling this 'data' is powerful and will give the Tiger team a deeper relationship to the problem they are solving.
5. You can't outsource 'a-ha!'.
An insight is a deeply personal moment of realisation. It's the feeling of identifying a new pattern or relationship between two things that you couldn't see before. For this insight to motivate behaviour and really drive change — it must be felt, and it must be yours.
It's for this reason we don't recommend outsourcing insights. You can bring in partners who can help create the environment for insight, but the critical success factor is that the team responsible for delivery are the ones who have the realisation. 
 They need to 'feel' the imperative for change in their bones — it needs to be an deeply understood truth, not a sound byte in a report.
Learning: Before the data gets too abstracted, have your Tiger team get into the weeds and help organise the chaos. Your partners can help bring data and perspective to the table, but make sure it's the Tiger team who decide on where the priorities sit.
6. Stand on the shoulders of giants
Every business is unique and every cultural change programme should be bespoke. But that really doesn't mean that you're the first to experience the challenges you're facing.
The constellation of challenges you face in shifting culture is unique — but the individual challenges are not. Communication, technology, training, attitudes, environments — challenges in these areas have been tackled successfully by many organisations, repeatedly.
Rather than start from scratch, look outside your organisation for inspiration. Use your network and start conversations with people who can help you get a fresh perspective on what's possible.
This could be competitors, vendors or companies outside your industry. Working with a Global Engineering client who needed to introduce an open innovation platform to their 3,000 employee organisation, we introduced them to two companies.
One was a deep sea oil exploration company (similar engineering pedigree) who was 3 months into using a similar platform with great success. After a focused 60 minute interview with the programme lead there, the team got visibility of how to launch a programme like that successfully.
We then introduced them to a global telecommunications business who had been using a system like that for 6 years. They were able to help the team think long term about the best-practice, process and people required to drive adoption and value from an open-innovation platform. These 2 conversations saved the team 12 months of trial and error and helped them put their 'best foot forward' at launch.
Learning: there are hundreds of organisations out there who can help you get a fresh perspective on the challenges you face. Connect with them.
7. 80:20 thinking: do less, better.
So you've been out there, spoken to employees, identified hundreds of challenges and you're now staring at a wall full of post-it notes. The feeling of complexity and the scale of the challenge is probably starting to feel overwhelming at this stage. Where do you begin?
Most organisations struggle for resource and the challenge you have is that there may be 20–30 different problems you could tackle. You task is to slim down the focus areas to 3–5 key challenges you think the team must face to make progress on driving the behaviours you've identified.
We'd suggest that you use the Tiger team to organise the insights into themes and then have draft problem statements for each. From here you can pose a simple question — if we could only focus on tackling one challenge, what would it be?
Hearing their answers you can then lean on your Decider/Sponsor to select the subset of challenges the team will tackle.
Learning: don't try to tackle everything at once. Change is a journey — focus on the items that will deliver short term impact first to build confidence and remember: do less, better.
No plan survives first contact. It doesn't matter how good the insights, the reality will never be quite as you expect. The complexity of the environment will dictate our approach: simple environments allow us to quickly apply best practice. 
Complicated environments require slightly more cross-functional thinking and so we can be satisfied with 'good' practice. 
But the moment we move into complex environments (namely most systems and certainly most organisations) — our approach needs to change. We've moved beyond best practice and we now need to create 'emergent practice'. This means testing and learning quickly. 
This is where most culture change programmes sit — the system is too complex to be predictable and whilst you have a great sense of where to move next, the only way to get data to support decision making is to create it.
Get your Tiger team to prototype solutions and start having conversations. A Design Sprint methodology can work here but don't get too hung up on the fidelity of your solutions just yet. Even a sketch that you can sit and have a good conversation with some about can teach all manner of valuable things. Encourage your tiger team to use quick lean experiments on new initiatives to build data about where to move next to drive the behaviours you want to see.
Learning: build out dirty data quickly and cheaply and use this to build internal confidence in the directions you want to take key initiatives.

Be bold, you're organisational explorers now!
There is no instruction manual for culture change in your organisation. You can read books, listen to podcasts, review case studies all you like — but you need to recognise that the system you want to change is complex and often unpredictable.
You are the explorers mapping the landscape, understanding the topography of your company's culture and experimenting with different pathways. Some will be dead-ends, others will reveal incredible opportunities — your job is to explore diligently and with pace. It's through this process of discovery, collaboration and experimentation you'll help your organisation develop new competencies, confidence and behaviours of the future.
CHANGE BY SPRINT VALLEY
Change that sticks.
Fast-track ambitious ideas and build a future-ready business your people are proud to be a part of.